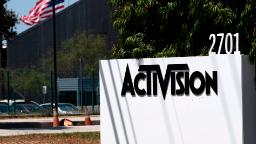 Microsoft's restructuring of its proposed $69 billion acquisition of Activision Blizzard "opens the door" to the biggest ever gaming deal being cleared, Britain's antitrust regulator said Friday.
Microsoft (MSFT) announced the deal in early 2022, but it was blocked in April by the UK competition regulator, which was concerned the US tech giant would gain too much control of the nascent cloud gaming market.
Activision Blizzard (ATVI), which makes "Call of Duty," agreed in August to sell its streaming rights to Ubisoft Entertainment in a new attempt to win over the Competition and Markets Authority (CMA).
The Ubisoft divestment "substantially addresses previous concerns," the Competition and Markets Authority said in a statement.
"While the CMA has identified limited residual concerns with the new deal, Microsoft has put forward remedies which the CMA has provisionally concluded should address these issues," the regulator said.
Consummating the deal would turn Microsoft into the third largest video game publisher in the world, after Tencent and Sony.
Microsoft said it was "encouraged by this positive development in the CMA's review process."
"We presented solutions that we believe fully address the CMA's remaining concerns related to cloud game streaming, and we will continue to work toward earning approval to close prior to the October 18 deadline," Microsoft President Brad Smith said.
Activision, which also makes "World of Warcraft," "Overwatch" and "Candy Crush," said the preliminary approval was great news for its future with Microsoft.
The European Union waved the deal through in May after accepting Microsoft's commitments to license Activision's games to other platforms, the same remedies that Britain had rejected.
The US Federal Trade Commission also opposes the deal, but it has failed to stop it. A federal judge ruled in July that the deal can close, a decision the FTC is appealing.
The CMA's decision to reopen the case was a radical departure from its play book, but it said on Friday it had been consistent and Microsoft had "substantially restructured the deal" to address its concerns.
"It would have been far better, though, if Microsoft had put forward this restructure during our original investigation," CMA Chief Executive Sarah Cardell said.
"This case illustrates the costs, uncertainty and delay that parties can incur if a credible and effective remedy option exists but is not put on the table at the right time."
Equity analyst Sophie Lund-Yates at Hargreaves Lansdown said the loss of the cloud gaming rights was not an ideal concession for Microsoft to have to make, but it was necessary collateral if the deal were to be waved through.
"This looks to be the final bump in the road," she said.
The CMA said there were "residual concerns" around the Ubisoft deal, but Microsoft has offered remedies to ensure the terms of the sale were enforceable by the regulator.
It is now consulting on the remedies before making a final decision.
litmatch make new friends apps on google play
gift code myths of moonrise january 2023 youtube
pull the pin mod apk 0 138 1 unlocked happymod
dragon age senior creative director leaves bioware vapeone uk
new method dice dreams hack cheats free rolls mod generator
how to get free gems cash fast in project makeover reddit
download beach buggy racing 2023 01 11 apk mod free 5play
Free TikTok Coins: The Holy Grail of Success
Gewinnen von Kostenlosen Münzen: TikTok-Herausforderungen und Belohnungen
Coin Master Free Spins Myths and Facts: Unraveled
Unlocking Avacoins in Avakin Life: Insider Techniques
Bingo Blitz Credits Hack: Expert Recommendations
Free Spins in Coin Master: Your Ticket to Village Domination
how to claim free primogems from game awards 2022 reward
ZEPETO Zems Farming Strategies: Success Tips
match masters free coins archives smartphoneprice com
Free TikTok Coins: Your Ticket to Stardom
Unlocking Gems in Brawl Stars: Insider Techniques
dragon city hack cheats generator for free gems 2023
family island free rubies familyislandgame tiktok
hay day free diamonds generator without human verification
litmatch make new friends apps on google play
myths of moonrise codes wiki 2022 september theclashify
download pin rescue mod v2 0 4 unlimited money for android
evony the king s return hack free gems safe method
dice dreams free rolls generator online 2 may 2022
project makeover mod apk v2 50 1 unlimited money apkloo
beach buggy racing mod apk v2023 01 11 unlimited money
Free TikTok Coins: The Game Changer
Ganando Monedas Gratis: Desafíos y Recompensas en TikTok