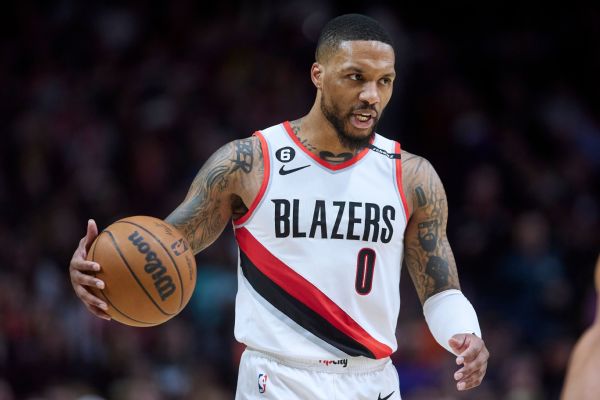 The Portland Trail Blazers are trading guard Damian Lillard to play to alongside Giannis Antetokounmpo with the Milwaukee Bucks as part of a three-team deal that also includes the Phoenix Suns, sources told ESPN's Adrian Wojnarowski on Wednesday.
Portland will receive Jrue Holiday, Deandre Ayton, Toumani Camara, Milwaukee's 2029 unprotected first-round draft pick, and unprotected Milwaukee swap rights in 2028 and 2030, sources told Wojnarowski.
The Suns will receive Jusuf Nurkic, Grayson Allen, Nassir Little and Keon Johnson, sources told Wojnarowski.
The deal comes months after Lillard formally requested to be traded in early July as the Blazers decided to take a patient approach to negotiations.
Lillard leaves Portland after 11 seasons in which he made seven All-Star and All-NBA teams and led the franchise to the playoffs eight times, including a Western Conference finals appearance in 2018-19. He ranks first in team history in both points and 3-pointers and second in assists.
He took to X, formerly known as Twitter, on Wednesday to say he is excited for the next chapter.
The casuals won't be addressed but the trailblazers fans and city of Portland that I love truly will be … and they will be addressed truthfully. Stay tuned

Excited for my next chapter! @Bucks 🎟️

— Damian Lillard (@Dame_Lillard) September 27, 2023
Lillard, 33, had a career year last season, averaging 32.2 points and 7.3 assists but played just 58 games as he sat out the last month of the season. The highlight of Lillard's season came on Feb. 26 against the Houston Rockets, when he scored 71 points.
Lillard's 32.2 points per game is the most by a player to change teams the following season, according to ESPN Stats & Information research.
Despite Lillard's numbers, Portland failed to make the playoffs for the second consecutive season for the first time in his career. The Blazers elected to keep their draft pick after both seasons, most recently selecting guard Scoot Henderson with the No. 2 overall pick. Lillard's trade request came shortly after.
The Blazers remain engaged elsewhere on deals and will are expected to immediately engage contending teams on trade talks to move on Holiday, sources told Wojnarowski. Portland is committed to its young group of talented guards.
The Bucks emerged as the consensus favorites to win the NBA title after the trade, with odds around 4-1 at U.S. sportsbooks. Milwaukee had been listed as the fourth-favorite, behind the defending-champion Denver Nuggets, Boston Celtics and Suns.

Free TikTok Coins: The Real Deal
Unlimited TikTok Coins: Myth or Reality?
Desbloquea Monedas Gratis en TikTok: Tu Guía Definitiva
Unlocking TikTok Coins: Proven Strategies
TikTok Coin Farming: Tips for Success
كيفية الحصول على عملات TikTok: دليل شامل للمبتدئين
TikTok Coin Hack Myths Debunked
How to Get TikTok Coins Effortlessly
مولدي العملات TikTok: الحقائق والأوهام
TikTok Coin Generator Review: What Works Best?
Free TikTok Coins: Insider Secrets
La formule secrète de la génération de pièces sur TikTok
TikTok Coin Farming Techniques: Unveiled
TikTok Coin Hacks: Boost Your Account for Free
Generatori di Monete TikTok: Mito vs. Realtà
TikTok Coin Generators: What to Watch Out For
TikTok Coin Generator Review: What Works Best?
Consejos de Seguridad para Ganar Monedas TikTok Gratis
A Deep Dive into TikTok Coin Generation
Free TikTok Coins: The Easiest Methods
Aprovechando al Máximo los Regalos de Monedas TikTok
Free TikTok Coins: The Future of Social Media
TikTok Coin Generators: Fact vs. Fiction
Crescere il Tuo Seguito TikTok con Monete Gratis
Free TikTok Coins: The Holy Grail of Success
Free TikTok Coins: Your Ticket to Stardom
Recommandations d'experts : Le hack des pièces TikTok
Free Coins on TikTok: Tips and Tricks
How to Get TikTok Coins Effortlessly
Plongée approfondie dans la génération de pièces sur TikTok