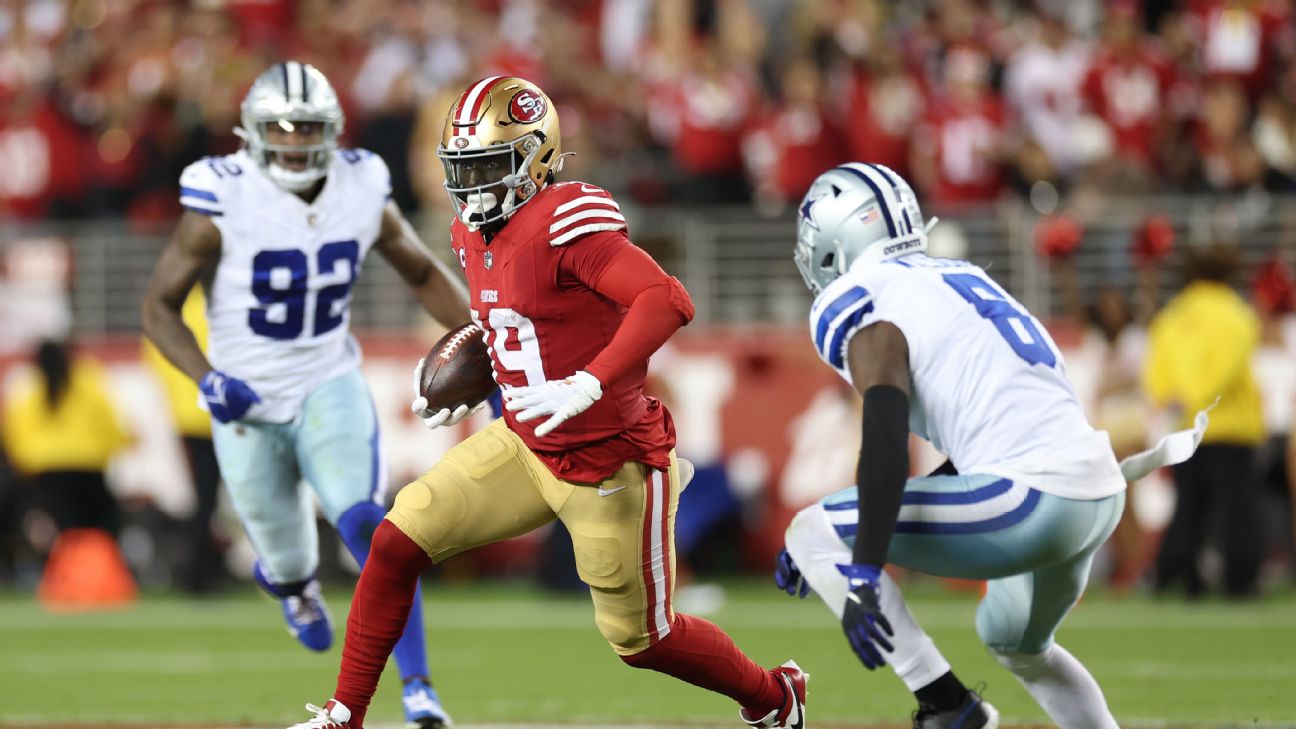 Micah Parsons and the Cowboys are hoping for a rematch with the 49ers after their historic 42-10 loss Sunday night in San Francisco.
But Niners star Deebo Samuel had a word of warning for Parsons and the Cowboys.
"I don't think [the Cowboys] want to see us again," Samuel said during an interview with FanDuel's "Up & Adams" podcast. "It might be a little bit worse."
Samuel's pointed comment was in response to a question about Parsons, who called out George Kittle for an anti-Cowboys shirt that the 49ers tight end flashed after one of his three touchdowns Sunday night.
"I just feel like he's making it way more personal than it had to be," the Cowboys superstar said Monday on his "The Edge with Micah Parsons" podcast. "Kittle's my guy, but I'm going to say this: Laugh now, cry later.
"We got something for that, just trust. If we see them again, just trust. … You gonna make it personal? We can make it personal."
One day later, Samuel said that the 49ers took note of some of the Cowboys' pregame comments before responding to Parsons.
"It was already personal before the game started, and now — 42-10 — I don't think you want to see us again," he said Tuesday. "It might be a little bit worse.
"I don't know what we're 'trusting.' He's talking about 'we trust,' you know, 'laugh now, cry later.' I mean, I don't think y'all wanna see us again."
Samuel, Kittle and the Niners rolled to a 42-10 victory Sunday night over the Cowboys, who had been looking forward to the contest after being eliminated by San Francisco in each of the last two postseasons.
It was the Niners' most lopsided victory in the history of their storied rivalry with the Cowboys and came one day before Kittle's 30th birthday. The four-time Pro Bowler revealed a shirt under his jersey that said, "F— Dallas," while celebrating in the end zone — a possible homage to a similar T-shirt worn by former 49ers linebacker Gary Plummer during the 1994 NFC Championship Game against the Cowboys.
"We look at every game the same, but this game was a little different [because of] the history," Samuel said. "But we can't get too hyped or let our emotions get the best of us before the game."
The blowout victory underscored the Niners' status as Super Bowl front-runners after the first month of the season, and Samuel emphasized San Francisco's versatility and depth during Tuesday's interview.
"You never know who's gonna go off," he said when asked about Kittle's three-touchdown breakout. "You never know whose day it's going to be. That's why I love this team and how many people we have that can put the ball in the end zone."
family island hack free rubies on android ios 2023
real free diamonds generator get free diamonds for hay day
litmatch unlimited diamond tiktok search

home pin pull the pin puzzle v3 8 8 apk mod unlimited coins
evony mod apk v4 29 1 unlimited money gems apkloo
chess programming piece value today we are proud to announce
project makeover hack unlimited gems mod no verification issuu
beach buggy racing hack 2021 coins and gems cheats 2022
Get Free Coins for TikTok: Top Methods
Chequeos Diarios y Monedas TikTok Gratis: Una Combinación Ganadora
The Secret Formula for Free Spins Generation in Coin Master
Free Avacoins in Avakin Life: Your Path to Virtual Glamour
Bingo Blitz Credits Farming Strategies: Success Tips
Free Spins in Coin Master: The Ultimate Game Changer
genshin impact codes all free primogem and mora dot esports
Legit Ways to Get ZEPETO Zems for Free
pet master free spins coins 2023 links
Free TikTok Coins: Where to Find Them
Free Gems in Brawl Stars: Proven Strategies
dragon city hack gems 2023 s nft collection nifty gateway
family island game cheats free rubies 2022 cakeresume
real free diamonds generator get free diamonds for hay day
litmatch mod apk v4 5 0 0 unlimited diamond free vip
codes of myths of moonrise january 2023 guíasteam
pull him up pull the pin out apk android game free download
evony the kings return hack mod wattpad
pdf dice dreams free rolls november 2022
project makeover hack unlimited gems mod no verification issuu
الحصول على beach buggy racing microsoft store في ar tn