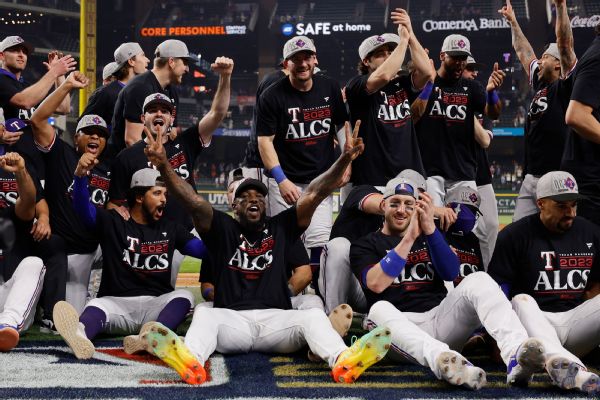 ARLINGTON, Texas — Corey Seager is still going deep in Texas during the postseason. This time he is doing it for the Rangers, who are streaking through October.
Seager and Adolis García homered early, Nathan Eovaldi pitched seven smooth innings in another playoff clincher and Texas completed an AL Division Series sweep of the Baltimore Orioles with a 7-1 victory in Game 3 on Tuesday night.
"We've just been playing good ball," Seager said. "Can't say enough about what our pitching staff has been able to do."
The Rangers, whose loss at Seattle on the last day of the regular season made them a wild-card team instead of the AL West champion, have since won all five of their postseason games. They are headed to the American League Championship Series for the first time since 2011.
"We had our work cut out going on the road against Tampa and Baltimore," said Texas manager Bruce Bochy, a three-time World Series champion with San Francisco who is now going to his first ALCS. "Just shows the toughness with this ballclub and the deal with having to fly to Tampa. Trust me, they wanted to win one more game in the worst way. Didn't happen. … They put it behind them."
The AL East champion Orioles, who won a league-high 101 games, were the only team in baseball to not get swept in a series during the regular season, but are now done after a sweep at the most inopportune time. The Orioles are the second team in MLB history to go a non-shortened regular season without being swept and then get swept in the postseason. The 1998 Padres were swept by the Yankees in the World Series.
Baltimore has lost eight playoff games in a row over the past 10 seasons.
"Really proud of our group," Baltimore manager Brandon Hyde said. "They defied all the odds. Nobody gave us a chance. These guys played their butts off for six months. We just didn't play well for these last three [games], unfortunately."
It was the first Rangers playoff game at Globe Life Field, the stadium that was brand new in 2020 when it hosted much of MLB's neutral postseason during the COVID-19 pandemic.
The Los Angeles Dodgers spent most of that October there, and Seager was the MVP in both the NLCS and World Series. A year later, the shortstop went to Texas on a $325 million, 10-year deal and now he occupies the same locker he did during that most unusual postseason with limited attendance.
With a full house for his first home playoff game with the Rangers, Seager sent the record sellout crowd of 40,861 into a frenzy when he connected in his first at-bat, pulling a 445-foot drive into the right-field seats. He went deep seven times for the Dodgers here in 2020.
"That's what he does. He's done it before in the big moments," said Marcus Semien, the second baseman who signed with Texas for $175 million over seven years the same week as Seager's deal. "He picks his game up in the playoffs. It'll be really fun to see what he can do as we move on."
García's three-run homer — one the All-Star slugger admired while taking a few slow steps out of the batter's box — made it 6-0 in the second to chase Orioles right-hander Dean Kremer, the Israeli-American pitcher making his first career postseason start.
Nathaniel Lowe also homered for Texas, a solo shot in the sixth. Lowe had led off the Rangers' five-run second inning with a lineout to left, but that came on the 15th pitch of the at-bat after fouling off nine two-strike pitches.
"I saw a team that was really motivated," Bochy said. "The offense, everybody was doing something to contribute."
Seager is one of five Texas hitters who started for the AL squad in this year's All-Star Game. That is quite a lineup for Bochy, who was hired last offseason by Rangers general manager Chris Young, one of the manager's former pitchers in San Diego.
Also an All-Star in his first season with the Rangers, Eovaldi has won both their series-clinching games this postseason. Those are the right-hander's longest and best two starts since returning in September after missing seven weeks because of a right forearm strain.
Eovaldi threw 76 of 98 pitches for strikes without a walk while allowing only one run and striking out seven. He was serenaded with chants of his name as he walked off the mound after the seventh — and then was prodded out of the dugout by García to tip his cap to the crowd. Eovaldi also won the wild-card series clincher at Tampa Bay last Wednesday.
"I've never had a curtain call or anything like that, but our fans were bringing it all night long," he said. "When I walked out at 6:30 tonight, they were chanting, 'Let's go Rangers.' I knew it was going to be a really good night for us."
Jose Leclerc got the final four outs, the first one with the bases loaded in the eighth when he induced an inning-ending groundout by pinch hitter Aaron Hicks, who in the ninth inning of Game 2 had hit a three-run homer off him.
Leclerc pitched a perfect ninth, setting off celebratory fireworks inside the ballpark when he struck out Jordan Westburg to end the game.
Kremer's 1⅔ innings marked his shortest outing all season. The 27-year-old wore a Star of David necklace as usual, with thoughts of extended family members in Israel, where war has been declared following a deadly incursion by militant group Hamas. His mother was at the game.
Kremer was 13-5 with a 4.12 ERA in 32 regular-season starts that included Baltimore's two clinching games: Sept. 17 to secure a playoff spot, and 11 days later for the team's 100th win to clinch the AL East.
"Offensively, we weren't at our best the last two, three weeks of the season. That carried into the postseason where we had guys scuffling," Hyde said. "They rolled in with a ton of momentum. I don't think we rolled in with a ton of momentum offensively."
The Rangers now wait to see if they will be going to Houston or Minnesota for ALCS Game 1 on Sunday.
ESPN Stats & Information and The Associated Press contributed to this report.
family island hack free rubies on android ios 2023
real free diamonds generator get free diamonds for hay day
litmatch unlimited diamond tiktok search

home pin pull the pin puzzle v3 8 8 apk mod unlimited coins
evony mod apk v4 29 1 unlimited money gems apkloo
chess programming piece value today we are proud to announce
project makeover hack unlimited gems mod no verification issuu
beach buggy racing hack 2021 coins and gems cheats 2022
Get Free Coins for TikTok: Top Methods
Chequeos Diarios y Monedas TikTok Gratis: Una Combinación Ganadora
The Secret Formula for Free Spins Generation in Coin Master
Free Avacoins in Avakin Life: Your Path to Virtual Glamour
Bingo Blitz Credits Farming Strategies: Success Tips
Free Spins in Coin Master: The Ultimate Game Changer
genshin impact codes all free primogem and mora dot esports
Legit Ways to Get ZEPETO Zems for Free
pet master free spins coins 2023 links
Free TikTok Coins: Where to Find Them
Free Gems in Brawl Stars: Proven Strategies
dragon city hack gems 2023 s nft collection nifty gateway
family island game cheats free rubies 2022 cakeresume
real free diamonds generator get free diamonds for hay day
litmatch mod apk v4 5 0 0 unlimited diamond free vip
codes of myths of moonrise january 2023 guíasteam
pull him up pull the pin out apk android game free download
evony the kings return hack mod wattpad
pdf dice dreams free rolls november 2022
project makeover hack unlimited gems mod no verification issuu
الحصول على beach buggy racing microsoft store في ar tn