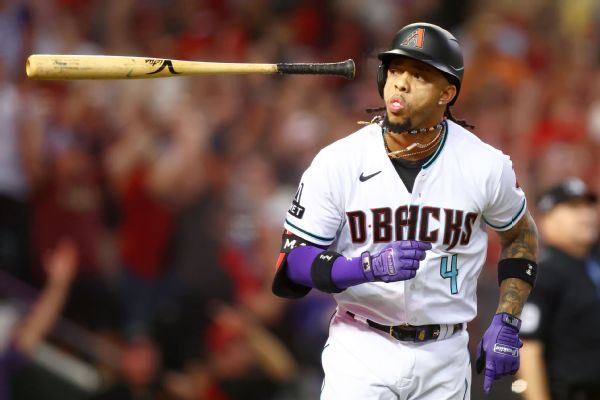 PHOENIX — Geraldo Perdomo got the Arizona Diamondbacks started with an unexpected homer, then Ketel Marte made most of the 48,000-plus fans at Chase Field giddy with another blast.
Christian Walker followed with a line-drive shot into the left-field seats, and Gabriel Moreno polished off the onslaught with a 420-foot moon shot into left-center.
One inning. Four hitters. Four solo homers.
"That's the coolest thing I've ever seen in my life," Walker said.
The hard-hitting Diamondbacks rode a record-setting burst of homers in the third inning to a 4-2 win in Game 3 of their National League Division Series on Wednesday night, sweeping the 100-win Los Angeles Dodgers out of the playoffs.
The D-backs return to the NL Championship Series for the first time since 2007. They will face the Philadelphia Phillies or the Atlanta Braves.
"This is what we worked all year for," Arizona rookie sensation Corbin Carroll said. "It's amazing to be here. It doesn't feel real."
Arizona — the No. 6 seed after squeezing into the NL playoff bracket with an 84-78 record — has won all five of its games during the postseason, sweeping aside the Milwaukee Brewers in a best-of-three series then the Dodgers in a best-of-five.
The wild-card Diamondbacks won with brawn in this one, slugging a postseason-record four homers in the third off veteran righty Lance Lynn. That gave Arizona a 4-0 lead it never relinquished.
"It's almost unbelievable, right? I'm a fan too, and I was looking at it thinking, what in the world is happening here?" Diamondbacks manager Torey Lovullo said.
The NL West champion Dodgers rallied for two runs in the seventh on two-out RBI singles from Chris Taylor and Enrique Hernandez off sidearmer Ryan Thompson, but lefty Andrew Saalfrank entered and retired Austin Barnes on a groundout.
Will Smith had a one-out single in the ninth off closer Paul Sewald, but Taylor hit a fly out to deep center in front of the 413-foot sign, and Hernandez flied out to left to end it.
Sewald, acquired from the Seattle Mariners in a trade deadline deal on July 31, earned his fourth save of the postseason.
"You look at the game, the series, they outplayed us, and there's no other spin to it," Dodgers manager Dave Roberts said. "As far as our clubhouse, it's just a lot of disappointment."
Lynn cruised through the first two innings of a scoreless game, giving no indication about what was to come.
Perdomo started the scoring with a leadoff homer, his first long ball since Aug. 13. One out later, Marte hit a 428-foot drive to right on a 1-0 cutter. With two outs, Walker pulled a 3-1 cutter to left for a 3-0 lead.
Then came No. 4: Moreno sliced a 2-1 fastball down the line to the opposite field that right field umpire Gabe Morales called fair. But the umpires huddled, and crew chief Todd Tichenor reversed the call to foul, a decision upheld by a video review. Moreno then drove Lynn's next pitch — a hanging slider — over the left-field wall, flipping his bat high in the air as he started his trot.
"The one that was really impressive for me was Gabby Moreno. He hits one foul, then he hits one fair. It's a great moment for us," Lovullo said.
A few moments later, a dejected Lynn handed the ball to Roberts and trudged toward the dugout.
Lynn gave up 44 homers in the regular season, the most in the majors. The previous mark of three homers in a postseason inning had been accomplished 12 times, most recently by the Dodgers against the Atlanta Braves in 2020.
Arizona rookie right-hander Brandon Pfaadt threw 4⅓ scoreless innings, giving up two hits and striking out two.
Moreno left in the fifth inning with a bruised right hand. The catcher was struck by a foul ball when Taylor squared to bunt. Moreno said postgame that X-rays were negative.
While the D-backs thrived, the Dodgers had no answers for a third straight game. A stacked lineup with a pair of former MVPs — Mookie Betts and Freddie Freeman — couldn't make much of an impact throughout the series.
Both All-Stars struck out in the eighth against Kevin Ginkel with a runner on first. Betts finished the series 0-for-11, while Freeman was 1-for-10.
"The bottom line is that they outplayed us in every facet of the game," Roberts said.
3 ways to get free primogems in genshin impact win gg
ZEPETO Zems Generator Insights: Truth vs. Fiction
match masters free gifts coins and boosters pocket tactics
TikTok Coin Hack: A Comprehensive Overview
Brawl Stars Gems Hack Myths Debunked
pdf hack genera tor 2022 hack no human survey 6r8f 8y
family island game cheats free rubies 2022 cakeresume
hay day free diamonds generator without human verification
litmatch mod apk unlimited diamond 2022 appsfree4u com
myths of moonrise промокоды на январь 2023 guidesgame
pin by shaitan shivam on master coin master hack pinterest
amazon brand analytics how to use amazon analytics artictle
dice dreams free rolls get dice and more ways to get rolls
unlimited gems in project makeover super hacks in 2022
beach buggy racing mod apk v2022 12 17 unlimited money free
Unlimited TikTok Coins: Myth or Reality?
Segreti per Raccogliere Monete Gratis su TikTok
The Future of Coin Raiding: Free Spins in Coin Master
Mastering Avacoins in Avakin Life: Expert Insights
Bingo Blitz Credits Generator Scams: What to Avoid
Coin Master Spins Farming Strategies: Success Tips
genshin impact redeem codes january 2022 how to claim free
Free ZEPETO Zems: Proven Strategies
game match master coins generator 2023 no human verification
Legit Ways to Get TikTok Coins for Free
Earn Free Gems in Brawl Stars Like a Pro
how to get free gems in dragon city 2023 dontruko
how to get free rubies in family island complete
free real hay day diamonds hack and cheats for mod apk
litmatch diamond hack download apk for android apkproz