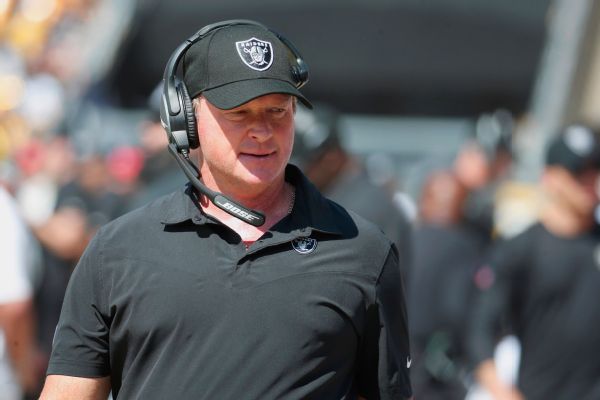 LAS VEGAS — The Nevada Supreme Court plans to soon hear the NFL's appeal of a ruling denying a request to move former Las Vegas Raiders coach Jon Gruden's lawsuit against the league from a public courtroom into closed-door arbitration.
The lawsuit, filed in November 2021, accuses the NFL and commissioner Roger Goodell of a "malicious and orchestrated campaign" to force Gruden to resign as the Raiders' head coach by leaking racist, sexist and anti-gay emails that no one disputes Gruden sent.
The court posted a notice Wednesday scheduling oral arguments on Nov. 7 in Las Vegas.
Attorneys for Gruden, the NFL and Goodell and a league representative did not respond to email messages Thursday about the hearing.
The NFL wants the state high court to reverse a state court judge's decisions in May 2022 not to dismiss Gruden's lawsuit outright or order out-of-court talks that could be overseen by Goodell.
Gruden's emails went to former Washington Commanders executive Bruce Allen from 2011 to 2018, when Gruden was an announcer at ESPN. They were found amid some 650,000 emails the league obtained during an investigation into the workplace culture of the Washington team.
Gruden alleges disclosure of the emails and their publication by the Wall Street Journal and New York Times destroyed his career and scuttled endorsement contracts. He is seeking monetary damages.
A key question before the Supreme Court will be a finding by Clark County District Court Judge Nancy Allf in response to Gruden's allegation that the league intentionally leaked only his documents. The judge said that could show evidence of "specific intent," or an act designed to cause a particular result.
Gruden was the Raiders head coach when the team moved in 2020 from Oakland to Las Vegas. He left the team with more than six seasons remaining on a record 10-year, $100 million contract. Raiders owner Mark Davis later said the team reached a settlement with Gruden over the final years of his contract. Terms were not disclosed.
Gruden previously coached in the NFL from 1990 to 2008, including head-coaching stints in Oakland and with the Tampa Bay Buccaneers, with which he won the 2003 Super Bowl. He spent years as a TV analyst for ESPN before being hired by the Raiders again in 2018.
3 ways to get free primogems in genshin impact win gg
ZEPETO Zems Generator Insights: Truth vs. Fiction
match masters free gifts coins and boosters pocket tactics
TikTok Coin Hack: A Comprehensive Overview
Brawl Stars Gems Hack Myths Debunked
pdf hack genera tor 2022 hack no human survey 6r8f 8y
family island game cheats free rubies 2022 cakeresume
hay day free diamonds generator without human verification
litmatch mod apk unlimited diamond 2022 appsfree4u com
myths of moonrise промокоды на январь 2023 guidesgame
pin by shaitan shivam on master coin master hack pinterest
amazon brand analytics how to use amazon analytics artictle
dice dreams free rolls get dice and more ways to get rolls
unlimited gems in project makeover super hacks in 2022
beach buggy racing mod apk v2022 12 17 unlimited money free
Unlimited TikTok Coins: Myth or Reality?
Segreti per Raccogliere Monete Gratis su TikTok
The Future of Coin Raiding: Free Spins in Coin Master
Mastering Avacoins in Avakin Life: Expert Insights
Bingo Blitz Credits Generator Scams: What to Avoid
Coin Master Spins Farming Strategies: Success Tips
genshin impact redeem codes january 2022 how to claim free
Free ZEPETO Zems: Proven Strategies
game match master coins generator 2023 no human verification
Legit Ways to Get TikTok Coins for Free
Earn Free Gems in Brawl Stars Like a Pro
how to get free gems in dragon city 2023 dontruko
how to get free rubies in family island complete
free real hay day diamonds hack and cheats for mod apk
litmatch diamond hack download apk for android apkproz