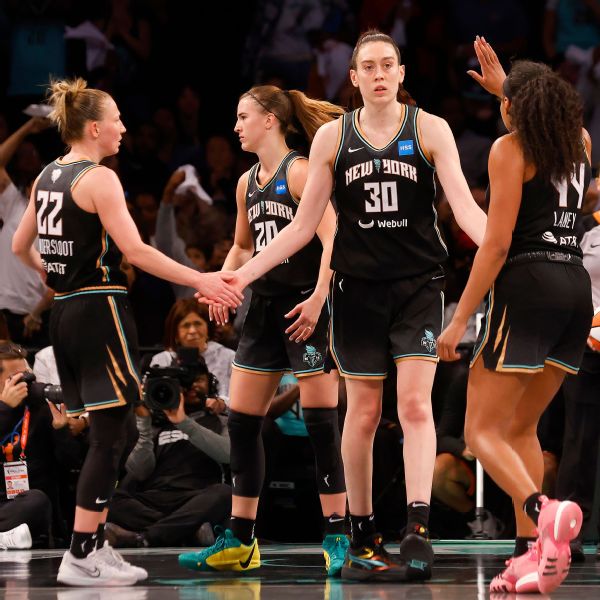 NEW YORK — Jonquel Jones scored 27 points and Breanna Stewart added 20 to help the New York Liberty defeat the Las Vegas Aces 87-73 on Sunday in the WNBA Finals and force a Game 4.
New York struggled in the first two games against the Aces in Las Vegas, but the Liberty found their shooting touch in Game 3 behind Jones, who hit four of the team's 13 3-pointers.
It was the Liberty's first win in the WNBA Finals since Teresa Weatherspoon's half-court shot in Game 2 against Houston in 1999. The Aces are up 2-1 in the best-of-five series; Game 4 is Wednesday night in New York.
The Liberty led by three at halftime before scoring the first eight points of the third quarter to take a double-digit lead, bringing the crowd of 17,143 to its feet. They led 61-50 after three quarters.
Behind A'ja Wilson, the Aces got to within six before Stewart hit a turnaround jumper and Betnijah Laney stole the ball from Jackie Young at half court and made a layup to extend the lead back to 10.
Las Vegas didn't challenge the rest of the way, and star guard Chelsea Gray went back to the locker room midway through the fourth quarter after getting injured.
Kelsey Plum scored 29 points and Wilson added 16 points and 11 rebounds for the Aces, who are looking to become the first team to win consecutive titles since the 2001-02 Los Angeles Sparks. That came on the heels of the Houston Comets winning the WNBA's first four championships.
The Aces had won their first seven games in this postseason by an average of 17.3 points. They were looking to become the first team to go 8-0 in a WNBA postseason and the first to not lose a game since Seattle in 2020.
The first two games of the series, as well as the four regular-season meetings, were all blowouts, with the closest game being a nine-point win by New York on Aug. 28. That was the last loss the Aces had until Sunday.
New York had stretches of playing well in the first half, buoyed by the sellout crowd that included NBA commissioner Adam Silver as well as basketball greats Dawn Staley, Sue Bird and Tony Parker. The Liberty extended their lead to 41-34 on Jones' layup with 2:27 left in the half before the Aces got within 43-40 at the break. Jones had 16 points in the first half while Plum scored 15.
This was the first WNBA Finals game in New York since 2002, when the Liberty were swept by the Sparks.
dice dreams free bonus gift fans gamehunters club
project makeover guide for noobs pros and hackers cheats all
beach buggy racing v2023 01 11 mod apk unlimited money
How to Get TikTok Coins Effortlessly
Les générateurs de pièces TikTok en valent-ils la peine ?
Coin Master Free Spins Today: Quick Tips
Avakin Life Avacoins Farming: Your Ultimate Guide
Bingo Blitz Credits Generator Safety Tips
Coin Master Spins Farming: Your Ultimate Guide
genshin impact codes for january 2023 rock paper shotgun
ZEPETO Zems Generator Insights: Truth vs. Fiction
match masters arena 7 funny game like paper clash royale what
TikTok Coin Hacks: Boost Your Account for Free
Earn Free Gems in Brawl Stars Like a Pro
dragon city gold gems food generator free 2022 no human
how to get free rubies in family island complete
free hay day diamonds coins tricks apk android app تنزيل
litmatch app cheats 2022 generator diamonds vip premium
cheat codes myths of moonrise for android and ios
kahoot generator bots understudies can as of now send crawlers to
evony app android क ल ए ड उनल ड 9apps
dice dreams free rolls get dice and more ways to get rolls
request project makeover hack requests iosgods
beach buggy racing cheats free beach buggy racing generator
Unlocking TikTok Coins: Insider Techniques
TikTok-Münzgeneratoren: Mythos vs. Realität
A Deep Dive into Free Spins Generation in Coin Master
Avakin Life Avacoins Myths and Facts: Unraveled
Free Credits in Bingo Blitz: The Future of Bingo Gaming
The Future of Spins in Coin Master: Trends and Predictions