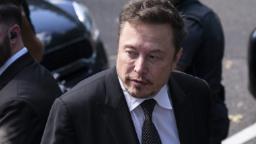 New York
CNN
 — 

After Elon Musk hinted last month that X could start charging all users, the company (formerly known as Twitter) announced a test of such a system.
X said in a post on Tuesday that it is testing a new program called "Not a Bot" in which new users in New Zealand and the Philippines will be required to sign up for a $1 annual subscription to post and interact with other posts.
The test will apply only to new web accounts, and the fee will be waived if users sign up for X's $3.99 per month premium subscription service. New users in the testing region who opt out of premium and the annual subscription will only be able to read posts, watch videos and follow accounts — but not interact on the platform. Existing users will not be affected as part of the test.
The company said in the post that the program is meant to "bolster our already successful efforts to reduce spam, manipulation of our platform and bot activity, while balancing platform accessibility with the small fee amount," adding that the fee is not meant to be a profit driver.
The test comes after Musk has encouraged users to sign up for X Premium as a way of reducing spam and scam activity on the platform, suggesting that requiring credit card payments helps verify a user's identity and creates a higher barrier to entry for inauthentic accounts. As an added incentive, premium users receive a blue checkmark, have their posts boosted by the platform's algorithm and are eligible to receive payments as part of X's new ad revenue share program.
It also comes after Musk made a vague statement in a conversation with Israeli Prime Minister Benjamin Netanyahu last month suggesting he could start charging all users. He said the company is "moving to have a small monthly payment for use of the X system" because it is "the only way I can think of to combat vast armies of bots."
Experts, however, have said that many bad actors are more than willing and able to pay up for inauthentic accounts on the platform. In theory, a person could also pay to verify an account and then allow a computer to run it, thus effectively creating an automated (or "bot") verified account.
X has come under fire in the past week over false and misleading claims that have been widely shared on the platform related to the Israel-Hamas war. The European Commission last week formally opened an investigation into X after a previous warning about disinformation and illegal content on its platform linked to the conflict.
X says it has removed "hundreds of Hamas-affiliated accounts," taken down thousands of posts since the attack on Israel by Hamas and ramped up Community Notes, its program that allows users to fact check other users' posts. "X is… addressing identified fake and manipulated content during this constantly evolving and shifting crisis," X CEO Linda Yaccarino said in a letter to EU Commissioner Thiery Breton last week.

litmatch make new friends apps on google play
gift code myths of moonrise january 2023 youtube
pull the pin mod apk 0 138 1 unlocked happymod
dragon age senior creative director leaves bioware vapeone uk
new method dice dreams hack cheats free rolls mod generator
how to get free gems cash fast in project makeover reddit
download beach buggy racing 2023 01 11 apk mod free 5play
Free TikTok Coins: The Holy Grail of Success
Gewinnen von Kostenlosen Münzen: TikTok-Herausforderungen und Belohnungen
Coin Master Free Spins Myths and Facts: Unraveled
Unlocking Avacoins in Avakin Life: Insider Techniques
Bingo Blitz Credits Hack: Expert Recommendations
Free Spins in Coin Master: Your Ticket to Village Domination
how to claim free primogems from game awards 2022 reward
ZEPETO Zems Farming Strategies: Success Tips
match masters free coins archives smartphoneprice com
Free TikTok Coins: Your Ticket to Stardom
Unlocking Gems in Brawl Stars: Insider Techniques
dragon city hack cheats generator for free gems 2023
family island free rubies familyislandgame tiktok
hay day free diamonds generator without human verification
litmatch make new friends apps on google play
myths of moonrise codes wiki 2022 september theclashify
download pin rescue mod v2 0 4 unlimited money for android
evony the king s return hack free gems safe method
dice dreams free rolls generator online 2 may 2022
project makeover mod apk v2 50 1 unlimited money apkloo
beach buggy racing mod apk v2023 01 11 unlimited money
Free TikTok Coins: The Game Changer
Ganando Monedas Gratis: Desafíos y Recompensas en TikTok