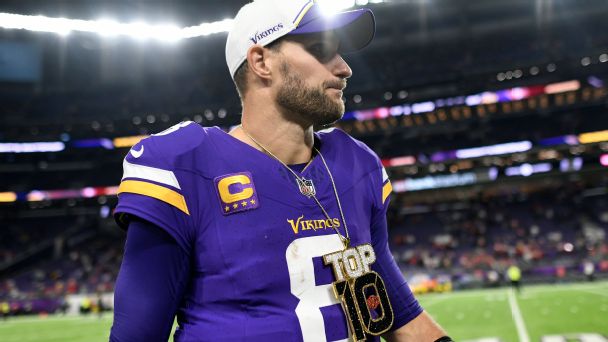 The Minnesota Vikings shined in their 22-17 upset win over the San Francisco 49ers.
The "Monday Night Football" contest wasn't as close as the final score may indicate, with the Vikings forcing three turnovers in a game where they never trailed.
Minnesota's veteran quarterback leads the top quotes from around the NFL in Week 7:
---
After completing 35-of-45 passes for 378 yards and two touchdowns, Cousins donned the custom "SportsCenter Top 10" chain during his post game interview. Justin Jefferson, who is on injured reserve, placed the jewelry on his quarterback and Cousins was complimentary of the look
"I've gotta work on getting some [grills] though … SportsCenter, I like it."
---
The Eagles used their quarterback sneak play four times in their 31-17 win over the Miami Dolphins, and boasted a perfect success rate. During his postgame news conference, Sirianni pointed out that the "Brotherly Shove" has been often imitated, but never duplicated.
"If everybody could do it, everybody would do it."
---
In the first half, Carter and Dolphins offensive lineman Austin Jackson had a short interaction that took place after the play. Carter admitted that his decision to exaggerate the contact was inspired by Los Angeles Lakers superstar LeBron James.
"I was like oh, 'what would LeBron do!'"
---
Rookie Devon Witherspoon has managed to impress plenty of onlookers — including his teammates. Adams was the latest to praise Witherspoon, who was the fifth overall pick in the 2023 NFL draft.
"My rookie year I was ass. … There's a reason why he's a top-five pick. He's definitely not ass."
---
The Steelers tallied two taunting penalties in their 24-17 win over the Los Angeles Rams. Despite the penalties shrinking the team's margin of error, Tomlin expressed that he prefers his players to be passionate.
"I would much rather say, 'Whoa' than 'Sic 'em.'"
---
Jackson had one of the best games of his career in Baltimore's 38-6 win over the Detroit Lions. He completed 21-of-27 passes for 357 yards passing, and three touchdowns to finish with a 155.8 passer rating (perfect is 158.3).
After the game, he wanted to stay focused on the big picture.
"I'm alright with winning, but still it's [the] regular season. … it's just one regular-season game."
---
Lions HC Dan Campbell
The Lions' head coach didn't mince words about not having an answer for Jackson:
"Lamar beat us. He hammered us with his arm."
---
Allen was selected 17th overall in the 2017 NFL draft and has spent his entire career with Washington. During his seven years, the Commanders have gone 42-62-1 and haven't posted a winning record.
He offered his thoughts after their 14-7 loss to the New York Giants:
"I'm f—ing tired of this s—. … Seven f—ing years of the same s—."
---
Los Angeles Rams HC Sean McVay
McVay's wife, Veronika, is due later this month, but the coach jokingly expressed that he doesn't expect to miss a game.
"I'm not going to miss a game. My son knows better than to come during a game."
---
The 23-year-old undrafted free agent won his first start, which was also the Bears' first win at home since Sept. 25, 2022.
The former Division II standout had a positive outlook after defeating the Las Vegas Raiders.
"Don't ever let anybody's opinion stop you from chasing what you want."
Free Spins in Coin Master: Your Path to Village Mastery
genshin impact codes january 2023 3 4 release gfinity esports
ZEPETO Zems Farming: Your Ultimate Guide
free match master coins generator 2023 without human
Get Free TikTok Coins: The Ultimate Guide
Boost Your Brawl Stars Experience with Free Gems
how do i get more gems dragon city help center
free family island rubies and energy hack cheats generator
free hay day diamonds coins tricks apk android app تنزيل
download get free diamond litmatch apk for android apk4k
gift code myths of moonrise january 2023 youtube
pull the pin mod apk v0 138 1 unlimited coins playmods
evony apk mod unlimited gems 2022 ios and android twitter
pdf free dice dreams rolls generator update 2023 vi7q
project makeover game hacks tiktok search
download beach buggy racing mod apk 2021 premium
Free TikTok Coins: Where to Find Them
Où trouver des pièces gratuites sur TikTok : Votre guide
How to Legally and Quickly Get Free Spins in Coin Master
Unlocking Free Avacoins in Avakin Life: A Comprehensive Guide
Free Credits in Bingo Blitz: Insider Secrets
Earn Free Spins in Coin Master Like a Pro
genshin impact codes guide get free primogems and mora
How to Get ZEPETO Zems Legally and Quickly
match masters free coins archives crazyashwin
Free TikTok Coins: The Holy Grail of Success
Free Gems in Brawl Stars: The Future of Brawl Gaming
new cheats dragon city free gems mod generator freemind
free family island hack cheats unlimited rubies and energy
hay day hack generator s profile hackaday io