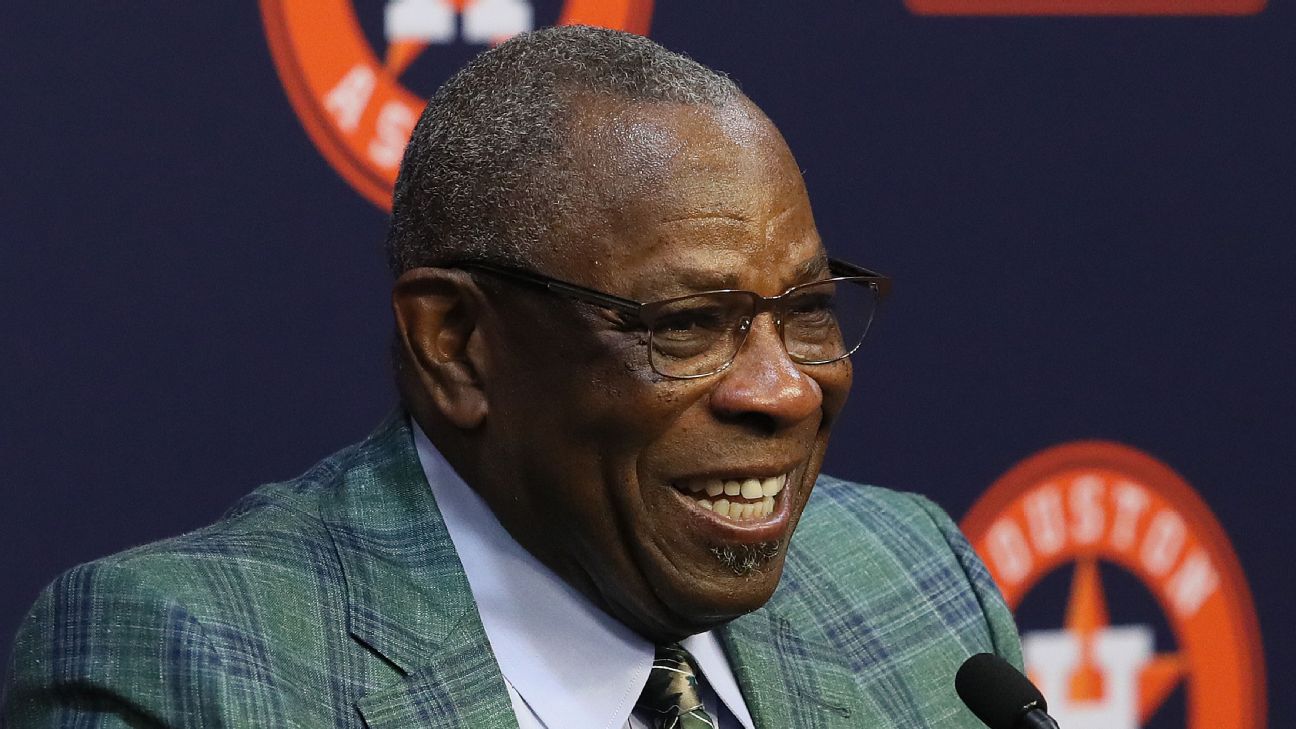 As Dusty Baker officially ended one notable chapter in his illustrious career, he said Thursday he feels an obligation to do more around the game with his next one.
Baker, 74, confirmed his retirement at a news conference following his fourth season managing the Houston Astros, who came one win shy of reaching the World Series for a third straight year with a loss to the Texas Rangers on Monday night in Game 7 of the AL Championship Series.
"I would first like to say thank you to [Astros owner] Jim Crane and family for giving me this opportunity over the last four years," Baker said Thursday. "It has been a tremendous honor to be the leader of this ballclub. Thank you to the fans for their unwavering passion. The amount of love I've received in my time in Houston has been unmatched.
"Thank you to all my players and coaches for their many sacrifices on our multiple pursuits to a World Series title. You all gave me all you had every day, and that's all I can ever ask for. Lastly, I want to say thank you to all my friends and family. I have immense gratitude for all of the love and support you have shown me throughout the years, and I can't say thank you enough. This isn't a goodbye, it's simply a 'see you later.'"
Congratulations Dusty on an incredible managerial career 🧡

Thank you! pic.twitter.com/QkdoB7ekVn

— Houston Astros (@astros) October 26, 2023
Baker ranks seventh with 2,183 wins, and all eligible managers with 2,000 wins are in the Hall of Fame. He became the first Black manager to reach that milestone and would be the first inducted into Cooperstown.
He compiled a record of 2,183-1,862 (with one tie) across 4,046 games on the bench for the Giants (1993-2002), Cubs (2003-06), Reds (2008-13), Nationals (2016-17) and Astros (2020-23). He is the only manager to lead five different teams to division titles and was the National League Manager of the Year in 1993, 1997 and 2000.
His Astros won the AL West for the third straight season in 2023. In 2022, the Astros defeated the Philadelphia Phillies in six games to win the World Series.
"It was probably the quickest four years I ever spent in my life," Baker said. "But that's what happens when you're winning. When you're losing, three or four years can feel like a decade."
Baker helped restore luster to a franchise embarrassed by a sign-stealing scandal that ultimately led to suspensions for general manager Jeff Luhnow, manager AJ Hinch and bench coach Alex Cora.
"When we hired Dusty four seasons ago, we felt that he was the right person to guide this club during a tumultuous time — and we were right," Crane said. "The success we've had under Dusty on the field is obvious, and the impact that he has had on our players, our organization and within our community has been tremendous. Dusty is a Hall of Famer as a manager, but more importantly, he is a Hall of Fame person. It has been an honor to have him as our manager."
Baker began managing in 1993 after a 19-year playing career as an outfielder. The two-time All-Star played with Hank Aaron on the Atlanta Braves and won a World Series with the Los Angeles Dodgers in 1981.
Baker said Thursday that attending Aaron's funeral in 2021 was an eye-opening experience for him.
"All these people were talking about how Hank had contributed and helped out their college education and affected this life and that life," Baker said. "I came back home and told my wife, 'I don't feel like I've done anything.'
"I don't know what I'm going to do, but I know it's going to be good, whatever it is. I believe that."
Baker also played with the Giants (1984) and Oakland A's (1985-86) during his career, compiling 1,981 hits with 242 homers and 1,013 RBIs in 2,039 games.
He wore his World Series ring on Thursday and said he hasn't worn his 1981 Dodgers ring in a while because "it hasn't fit in 30 years."
"I was kind of mad at the world when I got through playing," Baker said. "Like a lot of African-Americans and Latin players, there aren't jobs, really. I was going to go home. And then my dad told me, 'After all the people you've met, it's not up to you to take with you and possess what they gave you. It's up to you to pass it on to somebody else.' That's what I've tried to do."
Baker said he feels like he has unfinished business around baseball.
"I haven't made my mind yet on what I'm going to do, but I'm going to go home to talk to my daughter, who thinks she's my mother, and spend some time with my grandkids and let the Lord tell me where to go and what to do with my life," Baker said. "I still feel like I haven't done what I'm supposed to do in life, so I believe the Lord has some great things ahead for me."
Houston has the sixth manager opening of the offseason after Cleveland, the New York Mets, San Diego, San Francisco and the Los Angeles Angels. Only the Giants have filled the vacancy, hiring Bob Melvin from the Padres.
"We'll work on it quickly," Crane said. "[General manager Dana Brown] and I will do the work and we'll find someone. It'll be tough to replace Dusty, but we'll work fast to get somebody in place."
Reuters and The Associated Press contributed to this report.

Free Spins in Coin Master: Your Path to Village Mastery
genshin impact codes january 2023 3 4 release gfinity esports
ZEPETO Zems Farming: Your Ultimate Guide
free match master coins generator 2023 without human
Get Free TikTok Coins: The Ultimate Guide
Boost Your Brawl Stars Experience with Free Gems
how do i get more gems dragon city help center
free family island rubies and energy hack cheats generator
free hay day diamonds coins tricks apk android app تنزيل
download get free diamond litmatch apk for android apk4k
gift code myths of moonrise january 2023 youtube
pull the pin mod apk v0 138 1 unlimited coins playmods
evony apk mod unlimited gems 2022 ios and android twitter
pdf free dice dreams rolls generator update 2023 vi7q
project makeover game hacks tiktok search
download beach buggy racing mod apk 2021 premium
Free TikTok Coins: Where to Find Them
Où trouver des pièces gratuites sur TikTok : Votre guide
How to Legally and Quickly Get Free Spins in Coin Master
Unlocking Free Avacoins in Avakin Life: A Comprehensive Guide
Free Credits in Bingo Blitz: Insider Secrets
Earn Free Spins in Coin Master Like a Pro
genshin impact codes guide get free primogems and mora
How to Get ZEPETO Zems Legally and Quickly
match masters free coins archives crazyashwin
Free TikTok Coins: The Holy Grail of Success
Free Gems in Brawl Stars: The Future of Brawl Gaming
new cheats dragon city free gems mod generator freemind
free family island hack cheats unlimited rubies and energy
hay day hack generator s profile hackaday io