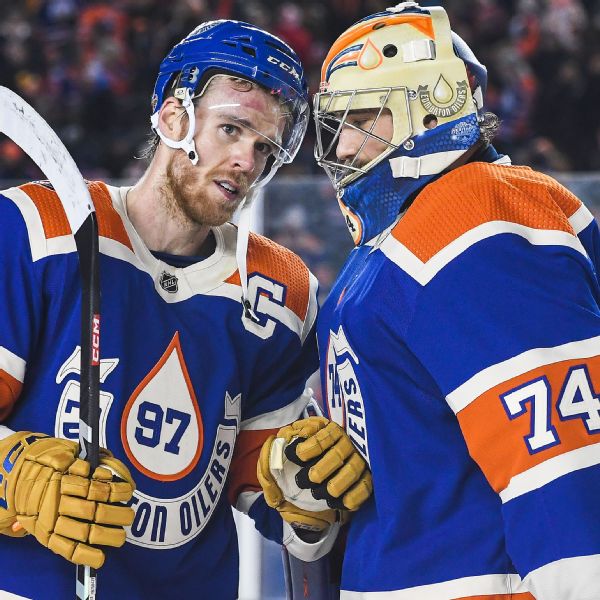 EDMONTON, Alberta — Captain Connor McDavid returned from injury on Sunday night, and the Edmonton Oilers defeated the rival Calgary Flames 5-2 in the NHL's Heritage Classic outdoor game.
McDavid, 26, a three-time Hart Trophy recipient initially thought to be out for one to two weeks with an upper-body injury, returned early and rejoined a struggling team that had lost four in a row before Sunday's offensive breakout.
"It's such a unique experience, maybe it's something you get to experience once or twice, if you're lucky," McDavid said of the outdoor atmosphere. "You just try to soak it all in. And obviously, it was a big win for our group."
Evander Kane had a goal and two assists, and Brett Kulak, Zach Hyman, Evan Bouchard and Vincent Desharnais also scored for the Oilers. Stuart Skinner stopped 24 shots in net for the home team.
A.J. Greer and Nazem Kadri had goals for the Flames in their fifth straight loss. Jacob Markstrom had 29 saves.
It was much warmer (about 37 degrees at puck drop) than at the original Heritage Classic in 2003, where the temperature reached minus-22 with the wind chill.
The Oilers started the scoring as Markstrom allowed a big rebound on an opportunity by Kane and defender Kulak was down deep to sweep in a backhand shot 4:19 into the game.
Edmonton made it 2-0 midway through the first period right after killing a two-man disadvantage as Leon Draisaitl came out of the box and waited for Hyman to catch up on a 2-on-1 before passing it to him for his third goal of the season at 9:38.
Calgary got one back with 5:05 remaining in the period and just 1 second remaining on yet another two-man advantage as Kadri's high shot deflected off Skinner's blocker and into the net. It was Kadri's first goal of the season.
"They made a strong push in the second period," Hyman said of the Flames. "To weather the storm and have our own push was huge."
Edmonton regained its two-goal cushion 1:11 later as Bouchard scored on a long slap shot through traffic. McDavid picked up an assist on that tally, extending his home scoring streak to 24 games.
Calgary notched another power-play goal with 8½ minutes left in the second period as Greer knocked in the rebound of MacKenzie Weegar's point-blank shot to make it 3-2.
Edmonton received a big goal at 6:16 of the third as Desharnais' point shot took a high bounce off the ice and past Markstrom.
The Oilers put the game away for good in the final minute on an empty-netter by Kane, his second of the season.
"We needed it. This was a big game for us, indoors or outdoors," McDavid said.
Calgary defenseman Rasmus Andersson missed the game as he finished serving his four-game suspension.
McDavid now has nine points on the season. He and the Oilers will take on the Dallas Stars on Thursday night.
The Associated Press contributed to this report.
Free Spins in Coin Master: Your Path to Village Mastery
genshin impact codes january 2023 3 4 release gfinity esports
ZEPETO Zems Farming: Your Ultimate Guide
free match master coins generator 2023 without human
Get Free TikTok Coins: The Ultimate Guide
Boost Your Brawl Stars Experience with Free Gems
how do i get more gems dragon city help center
free family island rubies and energy hack cheats generator
free hay day diamonds coins tricks apk android app تنزيل
download get free diamond litmatch apk for android apk4k
gift code myths of moonrise january 2023 youtube
pull the pin mod apk v0 138 1 unlimited coins playmods
evony apk mod unlimited gems 2022 ios and android twitter
pdf free dice dreams rolls generator update 2023 vi7q
project makeover game hacks tiktok search
download beach buggy racing mod apk 2021 premium
Free TikTok Coins: Where to Find Them
Où trouver des pièces gratuites sur TikTok : Votre guide
How to Legally and Quickly Get Free Spins in Coin Master
Unlocking Free Avacoins in Avakin Life: A Comprehensive Guide
Free Credits in Bingo Blitz: Insider Secrets
Earn Free Spins in Coin Master Like a Pro
genshin impact codes guide get free primogems and mora
How to Get ZEPETO Zems Legally and Quickly
match masters free coins archives crazyashwin
Free TikTok Coins: The Holy Grail of Success
Free Gems in Brawl Stars: The Future of Brawl Gaming
new cheats dragon city free gems mod generator freemind
free family island hack cheats unlimited rubies and energy
hay day hack generator s profile hackaday io