Fake placenames with anti-Israel messages flood Google Maps' depiction of the Rafah border crossing between Gaza and Egypt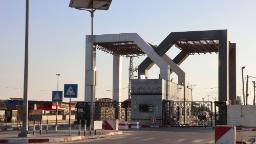 CNN
 — 

When Google Maps users navigated to the Rafah border crossing between Gaza and Egypt on Tuesday, they might have seen placenames that included, "F**k Israel," and "May god curse Israel's Jerusalem."
Cyber activists appeared to have targeted the service to post anti-Israel messages, likely by taking advantage of a feature on Google Maps that allows people to create and contribute information about businesses and landmarks that appear on the service.
CNN found dozens of anti-Israel placenames created in Arabic and English, including one in Arabic that read, "Palestine is free, may god forgive us."
There is no evidence that any Google systems were breached or compromised as part of this stunt which, Ben Decker, CEO of online threat analysis company Memetica, described as "cyber vandalism."
"Cyber vandalism traces its origins back to the early stages of the internet," Decker said, "when communities would hack into and deface websites."
Google, which also owns the map service Waze, said on Monday it was disabling its live traffic data in Israel and Gaza as Israeli forces prepare for a potential ground invasion of Gaza.
The company did not say if the action was at the request of the Israel Defense Forces. CNN reached out to the IDF for comment.
Google took the same action at the beginning of Russia's invasion of Ukraine last year after online researchers used live traffic data to track the movements of Russian troops.
It is unclear if the targeting of Google Maps with anti-Israeli messages was the result of the company's decision to disable live traffic data.
After CNN shared several examples of fake anti-Israel placenames with Google on Tuesday, a company spokesperson said, "On Google Maps, we strive to strike the right balance of helping people find reliable information about local places, and reducing inaccurate or misleading content. We have clear policies for user contributions – we are actively reviewing the examples you shared and are in the process of removing policy-violating content."
Many of the fake placenames were still live as of Tuesday evening.
Memetica's Decker said cyber vandalism is "a politically agnostic form of hacktivism that has been used by online communities around the world."
"The reason cyber vandalism is far more prevalent than real-world vandalism, particularly when it comes to geopolitical conflicts like Israel-Gaza, is that it can be a completely faceless and anonymous act," he said.

litmatch make new friends apps on google play
gift code myths of moonrise january 2023 youtube
pull the pin mod apk 0 138 1 unlocked happymod
dragon age senior creative director leaves bioware vapeone uk
new method dice dreams hack cheats free rolls mod generator
how to get free gems cash fast in project makeover reddit
download beach buggy racing 2023 01 11 apk mod free 5play
Free TikTok Coins: The Holy Grail of Success
Gewinnen von Kostenlosen Münzen: TikTok-Herausforderungen und Belohnungen
Coin Master Free Spins Myths and Facts: Unraveled
Unlocking Avacoins in Avakin Life: Insider Techniques
Bingo Blitz Credits Hack: Expert Recommendations
Free Spins in Coin Master: Your Ticket to Village Domination
how to claim free primogems from game awards 2022 reward
ZEPETO Zems Farming Strategies: Success Tips
match masters free coins archives smartphoneprice com
Free TikTok Coins: Your Ticket to Stardom
Unlocking Gems in Brawl Stars: Insider Techniques
dragon city hack cheats generator for free gems 2023
family island free rubies familyislandgame tiktok
hay day free diamonds generator without human verification
litmatch make new friends apps on google play
myths of moonrise codes wiki 2022 september theclashify
download pin rescue mod v2 0 4 unlimited money for android
evony the king s return hack free gems safe method
dice dreams free rolls generator online 2 may 2022
project makeover mod apk v2 50 1 unlimited money apkloo
beach buggy racing mod apk v2023 01 11 unlimited money
Free TikTok Coins: The Game Changer
Ganando Monedas Gratis: Desafíos y Recompensas en TikTok