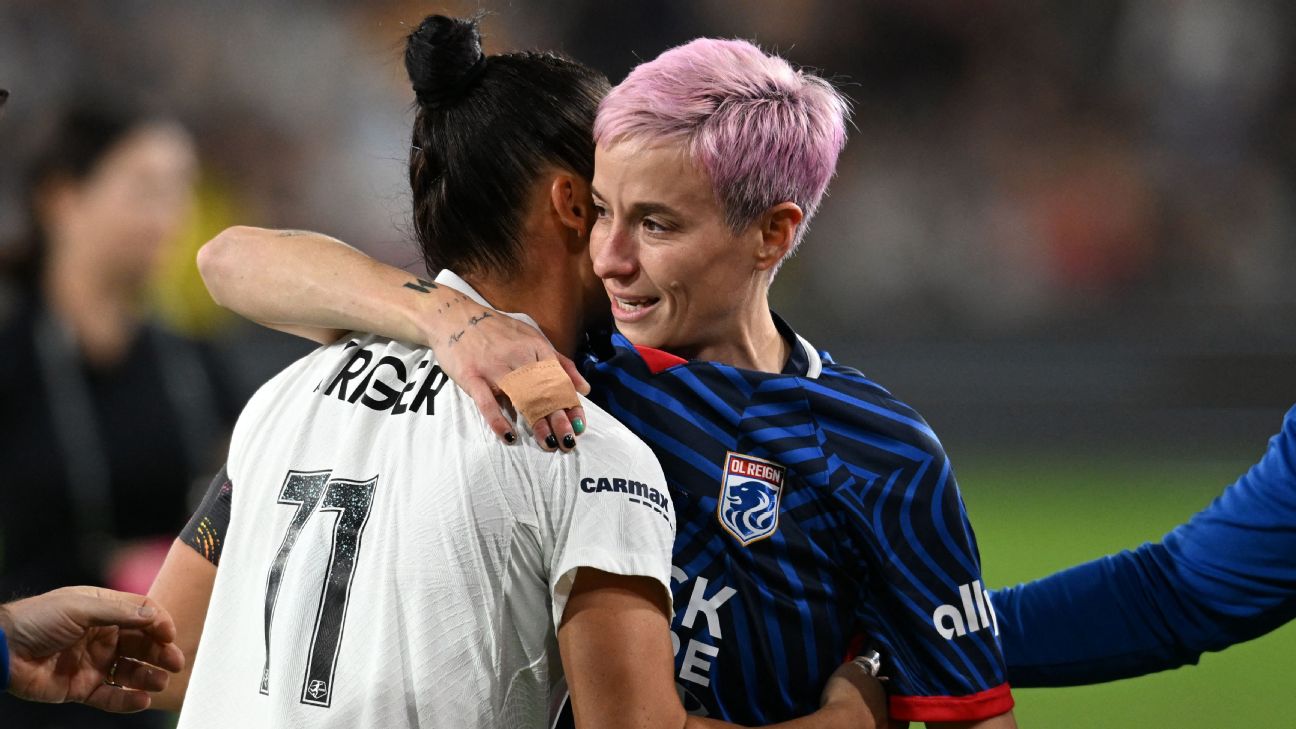 SAN DIEGO — OL Reign winger Megan Rapinoe said that her early exit because of an injury during Saturday's 2-1 loss to NJ/NY Gotham FC in the NWSL championship was "the worst possible outcome" for the final game of her professional career.
"It felt like just a huge pop," Rapinoe said about her noncontact injury that forced a substitution during the sixth minute at Snapdragon Stadium and that she feared was a torn Achilles tendon. "The worst possible outcome. I just thank god I have like a f—ing deep well of sense of humor. But yeah, I mean, just obviously devastating to go out in the final so early."
The 38-year-old, who retired from the U.S. women's national team after her 203rd appearance in a farewell match over the summer, added: "That's life; it's part of the game. I was feeling really good before the game, wasn't feeling tight or wasn't having calf issues or anything. You don't always get to have the perfect ending."
– Stream on ESPN+: LaLiga, Bundesliga, more (U.S.)
– Kassouf: Glory for Gotham, Krieger; heartbreak for Rapinoe
After her substitution in the first half and the introduction of Bethany Balcer in her place, the Reign eventually found themselves with a 2-1 deficit by the final stages of the match. Despite being given a late lifeline through a red card to Gotham goalkeeper Mandy Haught during injury time, the Reign were unable to find a late equalizer that would have pushed the contest to extra time.
On the other end of the field with Gotham, Rapinoe's former U.S. women's teammate Ali Krieger also was taking part in the last game of her career. When Rapinoe sustained her first half injury, Krieger embraced her longtime friend and fellow NWSL veteran.
"Obviously, so happy for her. So happy for her to be able to go out like this on an incredible career," Rapinoe said about Krieger's title with Gotham, later joking that her injury "gave" Krieger the championship.
As for the state of the field at Snapdragon Stadium, which has recently been criticized for the small divots and fading logos left by the San Diego State football team, Rapinoe noted that the pitch had nothing to do with her injury.
"I wish, right? No, I don't think so," the winger said. "These things are — they just sort of happen, happened how they happen."
Regarding her recovery, Rapinoe was blunt.
"I'm most upset that I'm now just a 'NARP', a normal-ass regular person having to do rehab, which is f—ing devastating," she said. "It's just f—ed up."
Although she wasn't able to close out her illustrious career with a first NWSL title, the Olympic gold medalist remained positive about her professional run that was kick-started by her national team debut in 2006.
"I feel so lucky and so grateful to have played as long as I've played and to have played with the incredible players that I've played [with]," Rapinoe said. "Every sort of new cycle that I've come with, I've gotten close to certain players and built relationships and played with some of the very best players in the world."
Looking ahead to off-the-field business ventures and a partnership with Nike, she highlighted that soccer fans haven't seen the last of her just yet.
"I'm looking forward to retirement," Rapinoe said. "I'm retiring on the field, but you'll definitely be seeing a lot of me off of it."
Guided by two assists from Midge Purce and a game winner from Spanish international Esther González, Gotham claimed their first NWSL title on Saturday. Purce, 28, was selected as the championship MVP.
Boost Your Brawl Stars Experience with Free Gems
generator gold and gems free for dragon city soultricks
Boost Your TikTok Influence with Free Coins
تحسين تجربتك على TikTok باستخدام العملات
LivU Video Chat Free Coin Generator Safety Tips
The Power of TikTok Coins: Explained
Ganando Monedas Gratis: Desafíos y Recompensas en TikTok
Unlocking Free Coins in LivU Video Chat: Insider Techniques
Coin Master Free Spin Generators: Fact or Fiction?
Avakin Life Avacoins Generator Scams: What to Avoid
The Art of Earning TikTok Coins
El Impacto de las Monedas TikTok en tu Perfil
LivU Video Chat Free Coins Farming: Your Ultimate Guide
Boost Your Coin Master Village with Free Spins
Unlocking TikTok Coins: Insider Techniques
how to free rubies family island game 2023 youtube
hay day all the ways to get free diamonds pocket gamer
litmatch app cheats 2022 generator diamonds vip premium
myths of moonrise codes january 2023 free gifts gamer tweak
css tricks tips tricks and techniques on using cascading style
evony the kings return hack unlimited gems generator nifty gateway
dice dreams free rolls collect daily gifts and rewards
project makeover gems and coins hack cheats coub
beach buggy racing 2 generator coins and diamonds free
TikTok Coin Generators: Fact vs. Fiction
Estrategias para Monedas TikTok Gratis: Consejos de Expertos
LivU Video Chat Free Coin Generator Insights: Truth vs. Fiction
The Power of Free Spins in Coin Master: Explained
Mastering TikTok Coins: Expert Insights
Strategie per Monete TikTok Gratis: Consigli degli Esperti